Easy Legislative Bill Tracking for Puerto Rico
Unlimited legislative bill tracking for the Puerto Rico Senate and House, searchable legislator voting records, bill analytics and more to help you stay informed during and after the legislative session.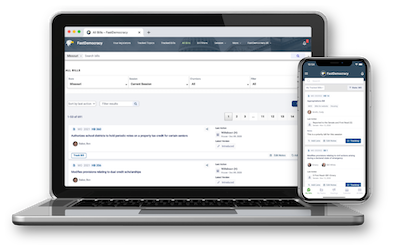 Why do I need bill tracking for Puerto Rico legislation?
Tracking bills is hard, especially if you rely on state legislature websites! Thousands of bills get filed in Puerto Rico every year (and about 180,000 bills nationwide). Legislation gets introduced by bill sponsors, heard in committees, amended, passed, and becomes law. If you want to be an effective advocate, you need to know where legislation of interest stands, and act quickly.
FastDemocracy makes it easy to track legislation in Congress and all 50 states, so you don't miss legislative bill actions that are important to you. We combine this with a government advocacy and lobbying suite to develop and organize advocacy strategies, collaborate, and keep stakeholders informed. Instead of going to government websites and combing through hundreds of pages of legislation, we detect legislative patterns and help you focus on what they do best - advocate for policy change. FastDemocracy is built from the state-level up, so we have the most accurate and timely information across states and the federal government.
How do I track bills in Puerto Rico?
3. Use the search bar on top if you're looking for something specific.
5. You can track an unlimited number of bills for free and we'll send you a daily or weekly email if your tracked legislation moves.
7. Track bills on your smartphone using our free mobile app.
How do I find my local Puerto Rico Senator and Representative?
Most tracked bills in Puerto Rico, 2021-2024 Session
Para ordenar a la Comisión de Proyectos Estratégicos y Energía del Senado del Estado Libre Asociado de Puerto Rico, a realizar una investigación sobre el contrato de alianza entre la Autoridad de los Puertos de Puerto Rico y la compañía "Aerostar Airport Holdings, LLC", firmado el 24 de julio de 2012, a los fines de pero sin limitarse a, auscultar el cumplimiento de los términos contractuales, fiscalizar la operación de "Aerostar" luego de la firma del contrato, examinar detenidamente el beneficio en que ha resultado esta alianza, y todo otro contrato de alianza público-privada debidamente otorgado a la fecha de aprobación de esta Resolución, y promover legislación necesaria para futuros negocios jurídicos de esta naturaleza.
Last Action
Vista Pública: En el Salón Luis Negrón López, Comisión de Proyectos Estratégicos y Energía
Senate • Jul 19, 2022
Para ordenar a la Comisión de Turismo y Cooperativismo de la Cámara de Representantes del Estado Libre Asociado de Puerto Rico realizar un estudio sobre la administración del Aeropuerto Luis Muñoz Marín desde que paso a manos de Aerostar Airport Holdings LLC y los programas desarrollados a raíz de dicha transacción; evaluar el cumplimiento del contrato establecido; verificar las condiciones actuales de las facilidades portuarias y los próximos proyectos a establecerse; los beneficios logrados para el turismo y el pueblo de Puerto Rico; y para otros fines relacionados.
Last Action
Referido a Comisión(es), Comisión de Turismo y Cooperativismo
House • May 18, 2022
Para establecer la "Ley para Reglamentar la Práctica de los Profesionales de la Histotecnología en Puerto Rico", mediante la cual se busca garantizar la calidad del personal que labora en un Laboratorio de Histopatología; disponer cuáles serán las funciones y responsabilidades de estos profesionales, derogar la Ley 258-2000 según enmendada conocida como "Ley para Reglamentar la Práctica de la Histología en Puerto Rico"; y para otros fines relacionados.
Last Action
Referido a Comisión(es), Comisión de Salud
House • Jun 21, 2021
All Legislators in Puerto Rico (Senator and Representative)