FastDemocracy Professional is Revolutionizing Government Relations
Are you part of a non-profit, business, government relations firm, agency, or association? Get realtime legislative alerts, collaboration, analytics, and professional reports - all packaged into the most intuitive legislative platform on the market.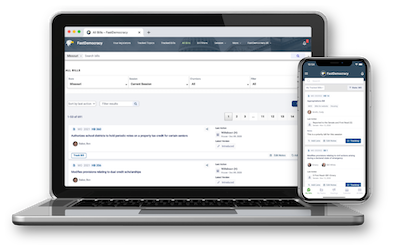 FastDemocracy Professional Features
State & Federal Bill Tracking
Track legislation in Congress, all 50 states, and DC and Puerto Rico.
Real-Time Legislative Alerts
Stay up-to-date on all the legislative happenings with real-time alerts on bill actions, hearings, and amendments.
Collaboration
Collaborate with colleagues and partners, share notes, upload documents, and keep clients, colleagues, and coalition members informed.
Customizable Reports
Create customized reports for your clients and coalition partners with the click of a button, personalized with your logo and exported to PDF, MS Word, Excel or HTML.
News, Press Releases & Social Media Tracking
Stay up to date with FastDemocracy's news and Twitter compilations. Follow state agencies with our press release updates.
Embeddable Website Widget
Keep your community informed and engaged with an auto-updating embeddable website widget. Uplift your community's voice through simple click-to-email campaigns directed at legislators.
Bill Similarity Detection and Side-by-Side Text Comparison
Find and compare similar bills and amendments, both within your state as well as across other states, with our patent-pending text comparison tool.
Vote Scorecards and Legislative Analytics
Identify legislative champions and swing voters with FastDemocracy's legislative scorecard and legislator statistics features.
Why our Customers Love FastDemocracy Professional
"I have lobbied for more than 30 years in various roles. We began using FastDemocracy this session and I was extremely impressed with the features available as well as the timeliness and accuracy of information. I highly recommend FastDemocracy to anyone that needs or wants accurate and reliable legislative information."
Ray McCarty, President & CEO, Associated Industries of Missouri
"FastDemocracy makes it simple and easy to search, compare and track different pieces of legislation. It helps to be able to share lists with my coworkers and colleagues so we can collaborate on where we need to direct our work."
Samati Niyomchai, Public Policy Manager, PROMO
"FastDemocracy has helped us connect better with our advocates, keep track of legislation, and prepare for future sessions through research. It made a big difference in our advocacy."
Abby Buckhouse, Policy & Advocacy Manager, Generate Health
"FastDemocracy is an efficient, easy to use and informative tool for any organization looking to stay up to date on their priorities throughout legislative session. The program is dynamic and cutting edge!"
Rebecca Stone, Advocacy & Member Engagement Manager, Greater St. Louis Inc.