Easy Legislative Bill Tracking for Kansas
Unlimited legislative bill tracking for the Kansas Senate and House, searchable legislator voting records, bill analytics and more to help you stay informed during and after the legislative session.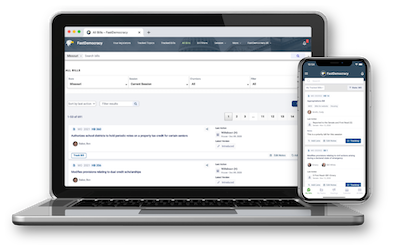 Why do I need bill tracking for Kansas legislation?
Tracking bills is hard, especially if you rely on state legislature websites! Thousands of bills get filed in Kansas every year (and about 180,000 bills nationwide). Legislation gets introduced by bill sponsors, heard in committees, amended, passed, and becomes law. If you want to be an effective advocate, you need to know where legislation of interest stands, and act quickly.
FastDemocracy makes it easy to track legislation in Congress and all 50 states, so you don't miss legislative bill actions that are important to you. We combine this with a government advocacy and lobbying suite to develop and organize advocacy strategies, collaborate, and keep stakeholders informed. Instead of going to government websites and combing through hundreds of pages of legislation, we detect legislative patterns and help you focus on what they do best - advocate for policy change. FastDemocracy is built from the state-level up, so we have the most accurate and timely information across states and the federal government.
How do I track bills in Kansas?
3. Use the search bar on top if you're looking for something specific.
5. You can track an unlimited number of bills for free and we'll send you a daily or weekly email if your tracked legislation moves.
7. Track bills on your smartphone using our free mobile app.
How do I find my local Kansas Senator and Representative?
All Legislators in Kansas (Senator and Representative)