Easy Legislative Bill Tracking for Florida
Unlimited legislative bill tracking for the Florida Senate and House, searchable legislator voting records, bill analytics and more to help you stay informed during and after the legislative session.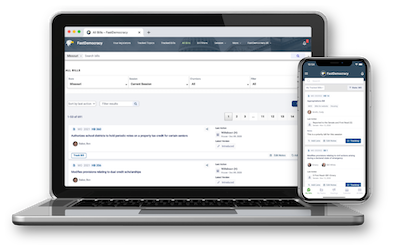 Why do I need bill tracking for Florida legislation?
Tracking bills is hard, especially if you rely on state legislature websites! Thousands of bills get filed in Florida every year (and about 180,000 bills nationwide). Legislation gets introduced by bill sponsors, heard in committees, amended, passed, and becomes law. If you want to be an effective advocate, you need to know where legislation of interest stands, and act quickly.
FastDemocracy makes it easy to track legislation in Congress and all 50 states, so you don't miss legislative bill actions that are important to you. We combine this with a government advocacy and lobbying suite to develop and organize advocacy strategies, collaborate, and keep stakeholders informed. Instead of going to government websites and combing through hundreds of pages of legislation, we detect legislative patterns and help you focus on what they do best - advocate for policy change. FastDemocracy is built from the state-level up, so we have the most accurate and timely information across states and the federal government.
How do I track bills in Florida?
3. Use the search bar on top if you're looking for something specific.
5. You can track an unlimited number of bills for free and we'll send you a daily or weekly email if your tracked legislation moves.
7. Track bills on your smartphone using our free mobile app.
How do I find my local Florida Senator and Representative?
Most tracked bills in Florida, 2022 Special Session D
Insurance; Revises calculation of amount of losses below which insurer is not entitled to reimbursement from FHCF for certain contract years; requires formula for determining actuarially indicated premiums to include cash build-up factor in certain contract years; authorizes insurers to file certain insurance rating plans based on certain windstorm mitigation construction standards under certain circumstances; revises conditions for determining ineligibility of condominiums for wind-only coverage; authorizes licensed personal lines or general lines agents to solicit, negotiate, advertise, or sell motor vehicle service agreements, home warranty contracts, & service warranty contracts without sales representative license.
Last Action
Withdrawn prior to introduction
House • May 18, 2022
All Legislators in Florida (Senator and Representative)