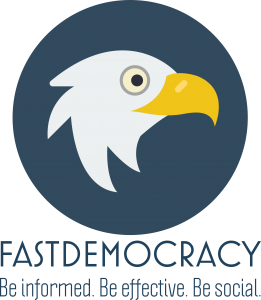 FOR IMMEDIATE RELEASE:

October 10, 2018
FastDemocracy top prize winner at Pure Pitch Rally startup competition
KANSAS CITY, Mo. — FastDemocracy today won prizes worth $110,000 and the People's Choice Award at the Pure Pitch Rally, earning the company a spot as a top prize winner at the local startup competition. FastDemocracy's earned cash awards as well as tech services from Amazon Web Service and an office space at WeWork Kansas City.
"We were thrilled to compete among such an impressive slate of entrepreneurs and honored to have earned such support," said Sara Baker, chief innovation officer at FastDemocracy. "This recognition by venture capitalists and business leaders further validates the effectiveness of FastDemocracy's platform and the need for innovation in the legislative advocacy industry."
FastDemocracy competed against seven other area technology startups at the third annual Pure Pitch Rally. Each entrepreneur received three minutes to pitch their business to a panel of judges and investors.
FastDemocracy, founded in 2018 and headquartered in Kansas City, is a state and national legislative analytics platform that uses data-driven analytics and collaborative communications tools to empower professionals and consumers alike to be more informed and effective while advocating for policy change. For more information on FastDemocracy, visit fastdemocracy.com.
###