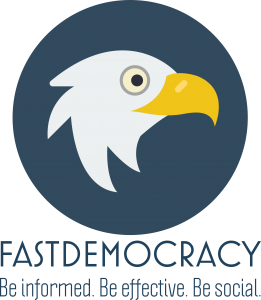 FOR IMMEDIATE RELEASE:

July 16, 2018
FastDemocracy joins Digital Sandbox KC
KANSAS CITY, Mo. — FastDemocracy today announced its selection as one of Digital Sandbox KC's new portfolio companies. The opportunity to join the portfolio comes with a $25,000 grant and access to additional startup resources.
"We're thrilled to join the Digital Sandbox KC portfolio," said Jill Kline, CEO and co-founder of FastDemocracy. "This prestigious opportunity and additional funding will allow us to officially launch our company, bring on new subscribers, and help advocates effectively take control of their government relations strategy."
FastDemocracy was one of only four startups selected in this most recent round of funding from Digital Sandbox KC. DigitalSandbox KC provides proof-of-concept funding to early stage startups in the Kansas City area.
FastDemocracy plans to apply the funding towards patent applications and work towards launching an upgraded analytics toolkit.
FastDemocracy, founded in 2018 and headquartered in Kansas City, is a legislative analytics platform that uses data-driven analytics and collaborative communications tools to empower professionals and consumers alike to be more informed and effective while advocating for policy change. For more information on FastDemocracy, visit fastdemocracy.com.
###